Buy Sarasota County Land Direct!
We Finance. No Credit Check.
We're your Sarasota County land specialists with Florida land available to buy direct easily. We provide as much data as possible on each property with multiple search criteria enabling you to find your dream land investment in just a few clicks. Contact us today at

.
View Sarasota County Properties
Population Increase from 2010
7.6%
Median Property Value
$258,900
Sarasota County, Florida
As an affluent resort community with a culture of golfing. Sarasota has a rich heritage of golfing with more than 30 golf courses near downtown. It is also Florida's third-fastest growing major market. Known as the cultural center of Florida's West Gulf Coast, Sarasota was once the winter home of Ringling Brothers Circus. It's now home to the Ringling Brothers Museum of Art. Sarasota has miles of Gulf Coast beaches including Lido Key and Siesta Key Beach. Sarasota County continues to attract new residents and it's a good time to buy land in this west coast area of Florida.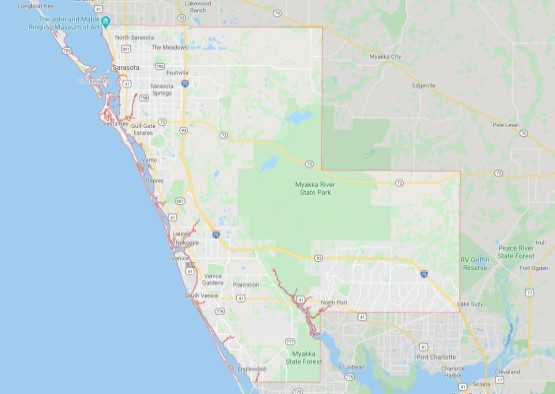 Economy
The unemployment rate in Sarasota County is 3.3% (U.S. avg. is 3.9%). Recent job growth is positive. Sarasota County jobs have increased by 2.6%.
Cost of Living
Compared to the rest of the country, Sarasota County's cost of living is 3.5% lower than the U.S. average.
Weather & Climate
November, April and March are the most pleasant months in Sarasota County, while August and July are the least comfortable months.
Population
Sarasota County's population is 404,839 people. Since 2010, it has had a population growth of 7.6%.
Schools
Sarasota County public schools spend $12,802 per student. The average school expenditure in the U.S. is $12,383. There are about 13.3 students per teacher in Sarasota County.
Real Estate
The median home cost in Sarasota County is $258,90. Home appreciation the last 10 years has been 5.9%.
#1
Best Counties for Retirees in Florida
#1
Healthiest County in Florida
#1
Best Counties for Public Schools in Florida
Land & Housing Market In Sarasota
It's a good time to buy in Sarasota.
Home Appreciation is up 5.9% in the last 12 months.
The median home price in Sarasotais $258,900.
Browse Land in Sarasota