Buy Taylor County Land Direct!
We Finance. No Credit Check.
We're your Taylor County land specialists with Florida land available to buy direct easily. We provide as much data as possible on each property with multiple search criteria enabling you to find your dream land investment in just a few clicks. Contact us today at

.
View Taylor County Properties
Population Increase from 2010
1.60%
Median Property Value
$93,100
Taylor County, Florida
Taylor County, Florida is about 90 miles northwest of Gainesville, is in the Big Bend region of north Florida on the Gulf Coast. Taylor county is rural with a small town feel. The county hosts the annual Florida Forest Festival and has been long known as the "Tree Capital of the South." The county seat of Taylor is Perry which is home to the Florida State Bluegrass Festival. Land and housing continue to be a good value with home appreciation over 9% in the last 12 months, so it's a good time to buy land in Taylor County.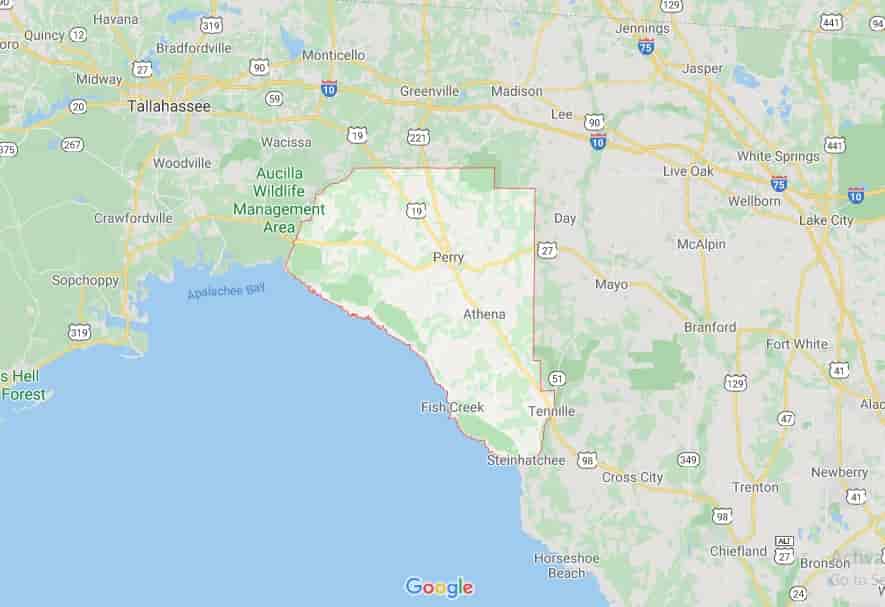 Economy
The unemployment rate in Taylor County is 3.9% (U.S. avg. is 3.9%). Recent job growth is Negative. Taylor County jobs have decreased by 0.2%.
Cost of Living
Compared to the rest of the country, Taylor County's cost of living is 23.8% lower than the U.S. average.
Weather & Climate
April, October and November are the most pleasant months in Taylor County, while July and August are the least comfortable months.
Population
Taylor County's population is 22,350 people. Since 2010, it has had a population growth of 1.6%.
Schools
Taylor County public schools spend $10,342 per student. The average school expenditure in the U.S. is $12,383. There are about 22.1 students per teacher in Taylor County.
Real Estate
The median home cost in Taylor County is $93,100. Home appreciation the last 10 years has been 9.0%.
#8
Counties with the Lowest Cost of Living in Florida
#28
Best Counties to Buy a House in Florida
#40
Most Diverse Counties in Florida
Land & Housing Market In Taylor
It's a good time to buy in Taylor.
Home Appreciation is up 9.0% in the last 12 months.
The median home price in Taylor is $225,900.
Browse Land in Taylor